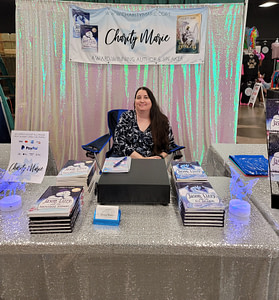 The Sami Show in Belton, Texas had a fantastic turnout. Hundreds of people from all over Bell County came out to see vendors who came from all over Texas and beyond. Not only did I meet some amazing vendors but lots of young readers and aspiring writers as well. After not doing public events for the last few years plus COVID as an additional concern, it was great to see the show handled with care for everyone's safety.
As I have done in the past, I picked two random people to give a free book to, one a vendor and the other a child. For some reason, despite her daughter's real interest in the books beyond her typical shy nature, Mom didn't even give a second glance. The little girl's heartbreak in that instant made the decision easy and she received a free autographed copy of Jason, Lizzy, and the Ice Dragon (her choice) along with my fervent hope the book would have an inspirational message she needed to hear.
One of the best parts of being an author is having hope the books mean something to the reader. More than just entertaining, I write stories to give hope and inspiration. It is always gratifying to see people drawn to that, almost despite themselves. I sold quite a few sets with pre-orders of book three. I also had great interest in How to Adopt a Dragon's release later this year. After more than five years of working on the story, I can't wait to see everyone's reaction. Beta readers are loving the story!
All in all, The Sami Show was a great show. The physical cost, however, was a different story. I have a lot of nerve damage throughout my spine plus two disc bulges that press on nerves due to being rear-ended six years ago. I take medication to help with it but despite that, by Sunday both of my feet were tingling and numb. I haven't felt that in a number of years. I was pretty exhausted after each day. I am hoping this gets better with time, but for that reason this show may get cut next year. I am buying a memory foam mat to stand on at the next show in hopes it helps. I also had my back adjusted as soon as I got home.
Next up is Aransas Pass for the Sanddollar Market. I am particularly excited about this event because several vendors told me it is a good show. I can't wait to meet lots more great people! In addition, because the first show went so well, it's expected the rest of the tour will go well too. As a result, more dates are being added throughout 2022, starting in January with Aransas Pass! The 2022 tour will see me going outside of Texas for the first time to states like Maryland, Nevada, Utah, Arizona, Michigan, and more. Very exciting! Lots more details on that to come later this year.