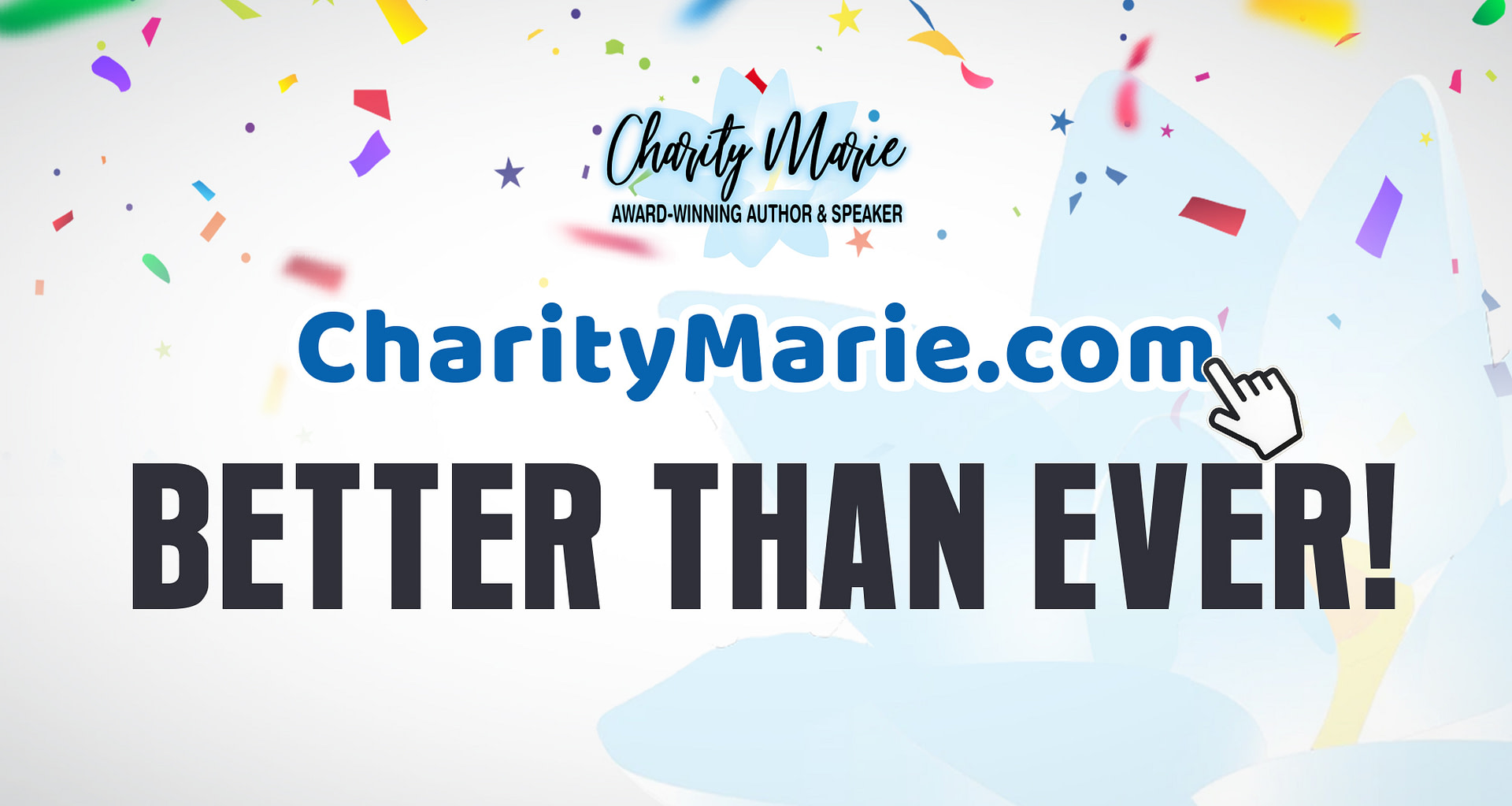 It's hard to believe CharityMarie.com is seven years old this year. We've seen a lot of changes over the years, but our latest website revamp may be the largest undertaking yet.
It started with getting the right team. First, I promoted my assistant, Rome, to Operations Manager and put him in charge of hiring. That was one of the best things I ever could have done, as he seems to have a secret talent for finding the right people – a talent I lack.
He brought Allan, a very talented graphic designer and web developer. It's really rare to find someone who can do both – usually you have to hire a graphic designer for the design elements and then a web developer to implement them. In Allan, we have double the talent and the improvements throughout the site's graphics and functionality show it. It is much easier to shop through the website now.
Allan handles all the visual and actual functionality of the website. He is an hourly staff member, which allows us to resolve any issues that might come up with the site in real time. He is also going to be responsible for any other website development projects in the future, including the magazine and podcast that is in development for 2024.
Then, thanks to this team and my husband's encouragement, my vision expanded exponentially. I shifted direction in my writing to focusing on writing book series instead of standalone books. It's a much more time-intensive process and I'm having to do a crash course on how this works creatively, but with that shift came a shift in business strategy and web development. It also meant that the current website was woefully lacking.
This small ripple set off a cascade of intense business changes. Then, The Writer magazine accepted my nonfiction essay, "Throwing Out the Rules: How Ignoring Writing Advice Helped Me Write My Way". Something I'd only ever dreamed about in the secret recesses of my heart happened in an instant and completely changed my life.
There's something truly special about being accepted by a national print publication like The Writer, which has been publishing for 135 years. It's a stamp of credibility and trust. And considering all the submissions they receive, it feels a little like winning the lottery. I've dreamed for 25 years of being published by such a prestigious magazine and our team has been celebrating this achievement ever since. But with that came pressure to revamp the website for a national and international audience in order to make our best first impression.

Then, just being able to consistently announce this and other news on social media became more than I could handle. So we brought on Glaiza as our social media and newsletter specialist. She brings a ton of experience to the table, both graphically and with social media strategy.
Finally, it seemed, overnight, the administrative tasks for our trucking business became more than I could handle because suddenly I was being pulled in every direction at once. So we hired a data entry specialist. And added a marketing consultant to help us with book launches. We also hired an audiobook narrator to create audio versions of all the books. We're using a SAG/AFTRA member whose voice sounds astonishingly similar to mine. We're excited to release audio versions next year.
In the last five months, we've worked hard to build a team to support all the aspects of the business. I'm amazed to realize how much I was trying to do by myself that requires a team to achieve properly. It's been a lot of work to set this up these last six months, but we finally have it in place. The capstone of all this hard work is the new website unveiling on June 19, 2022.
The website features fully redeveloped core pages: home, blog, shop, and the curriculum vitae. We'll also be creating new pages, like an about page, a media page, and a teacher's corner. While we're launching the redevelopment, there's lots of exciting changes coming in the future.
With these improvements comes a new content strategy, improved newsletters, and social media support, so you'll never miss out on all the best news from CharityMarie.com. You can expect the release of two new books in the next 9 months: Jason, Lizzy, and the Luckless Leprechauns (this fall) and Cherry Blossom Tree (in 2023). How to Adopt a Dragon is actively in redevelopment as the first in a ten book series called Dragon's Peak, expected to release in late 2023.
We appreciate everyone's patience as we work toward releasing a publication date for each book soon. In addition, a new Jason & Lizzy series of 3 books, called The Ebondale Trilogy, is in development, along with two more books for the Jason and Lizzy's Legendary Adventures series.
You can also expect a wider range of blog topics in the future as we share information with you on a wide range of topics related to children, mental health, publishing, the writing process, and more.
We're so excited to finally share all these exciting improvements with you. If you haven't joined us on social media, you can do so below.
We look forward to connecting with you!